Orient Overseas International, the publicly traded parent company of Orient Overseas Container Line, filed its first quarter financial report giving a glimpse of the expected decline in earnings likely to emerge from the container segment during the first quarter of 2023. While analysts have been speculating on how the dramatic decline in freight rates might hit the carriers, OOIL traditionally is the first to report providing a preview for the broader industry.
The company reported that revenues fell nearly 58 percent ($2,175.5 billion) in the first quarter of 2023 versus the year earlier. The filing made with the Hong Kong Stock Exchange on April 6 does not provide extensive analysis but shows that volumes held strong with the company reporting that liftings were down just over three percent versus last year with a small increase in capacity as well. The company notes that performance is also dependent on costs and expenses without providing details on the cost side of the results.
The breakdown between the company's four service areas, trans-Pacific, Asia to Europe, intra-Asia/Australian, and trans-Atlantic, also revealed interesting details about the market. OOCL's revenues were strongly impacted by Asia where the routes to Europe and trans-Pacific to the Americas were each off by more than 65 percent. Intra-Asia revenues were down by half while trans-Atlantic showed a nearly five percent increase as liftings grew 25.5 percent on the Atlantic routes.
The steep decline in revenues comes as OOCL is actively moving forward with its first major capacity expansion in years. Simultaneously with  being acquired by COSCO, OOCL added capacity in 2017 and 2018 and then in 2020 placed its first major orders. In March and October 2020, orders were placed with Nantong COSCO KHI Ship Engineering Co. (NACKS) and Dalian COSCO KHI Ship Engineering Co. (DACKS) for a total of 12 containerships each with a capacity that is now exceeding 24,000 TEU. The first of the vessels, OOCL Spain, was delivered by NACKS in February 2023, and last week DACKS floated out the second of its ultra-large vessels.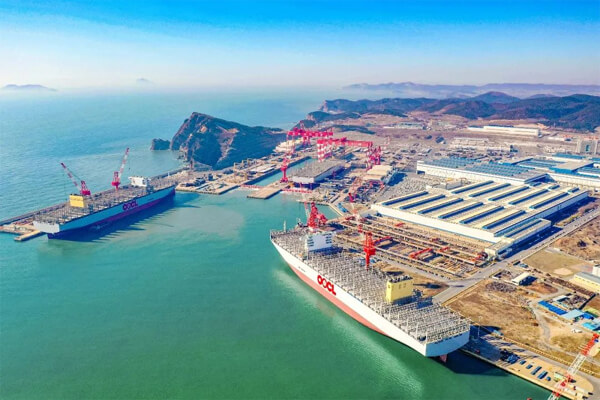 DACKS yard in China with two OOCL vessels and a third in the drydock (DACKS)
The OOCL class has a nominal capacity of 24,188 TEU, which is slightly smaller than MSC's largest at 24,346 TEU, but is among the small number of ultra large boxships to exceed 24,000 TEU. DACKS highlights that its design implements a low-resistance line optimization, including an energy-saving bow design and propeller front shrouds, as well as what they are calling the world's largest capacity high-efficiency permanent magnet shaft generator system. The vessel also has a 45-foot container double-foreign lashing system to maintain safety for its large loads.
DACKS highlights that it is using a new continuous construction model with double docks to speed the work on these large containerships. DACKS is also participating in an order from OOCL for 10 mid-sized containerships each with a capacity of 16,000 TEU as well as being assigned five of the 24,000 methanol-fueled containerships as part of COSCO's joint order with OOCL placed in October 2022.
The photo released by DACKS shows two of the OOCL vessels afloat after the April 8 float out of the vessel. A third vessel appears to also be taking form in the neighboring drydock.