MSC Group has taken another key step as they prepare to launch their new luxury cruise line brand Explora Journeys. They are reporting that Italian shipbuilder Fincantieri recently completed sea trials for the new brand's first cruise ship, Explora I.
"The sea trials are a critical part of the process, and we're pleased that Explora I passed with flying colors," said Michael Ungerer, CEO of Explora Journeys. "Our team has worked tirelessly to design and build a ship that offers the perfect combination of luxury, adventure, and sustainability, and we can't wait to share it with our guests."
The launch of the new brand is the latest in the rapid growth of the luxury segment of the market which will also see leading hotel brands including Ritz Carlton, Four Seasons, and the Middle Eastern Aman Group enter the cruise market. MSC had been rumored to be targeting the market before the October 2018 announcement that they had reached an initial agreement with Fincantieri to build four smaller, luxury cruise ships. The order, which was valued at more than €2 billion was finalized in March 2019 calling for four 64,000 gross ton cruise ships due for delivery between 2023 and 2026.
"Our vision and purpose from day one has been to create an ocean travel experience like no other and we are thrilled that the first of our ground-breaking new class of ships, Explora I will start sailing in July 2023," says Ungerer. The brand is unique as it becomes the first cruise ships to also offer 23 ocean residences in addition to its 438 suites. The cruise line is promising a unique destination-oriented experience and European luxury aboard the ships.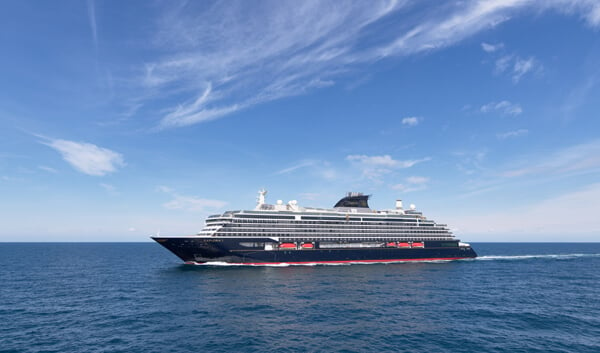 New cruise ship showing off her style during her recent sea trials (Explora Journeys)
Construction for Explora I began on June 10, 2021, at Fincantieri's shipyard in Monfalcone, Italy. The first two cruise ships for the brand will be sister ships, each measuring approximately 813 feet in length. The line highlights that they will have a high passenger-to-crew ratio and also one of the highest guest-to-space ratios in the luxury ocean category.
Among the passenger amenities are 11 culinary experiences with six unique restaurants and 12 bars and lounges. Each ship will have three outdoor pools and one indoor pool. In addition to the entertainment, there will be a large indoor-outdoor wellness and fitness facility incorporating a luxury spa. 
MSC Group also notes the broad range of advanced environmental features included in the design. The ships have a Selective Catalytic Reduction (SCR) System, advanced wastewater treatment, and a ballast water treatment system. The hull design features optimized hydrodynamics to minimize resistance through the water and reduce underwater noise while the ships are also outfitted with trim optimization software and capable of shore-to-ship power connectivity.
The Explora I was floated by Fincantieri on May 30, 2022, with construction on Explora II also beginning that same month. A naming ceremony for Explora I has been scheduled for July 8 in Civitavecchia, Italy after which the vessel will proceed to Southampton, England for its maiden voyage. The brand will make its official debut with the 15-night maiden voyage which departs on July 17 sailing to Northern Europe and the Arctic Circle. Her sister ship, Explora II, is due to enter service in August 2024 sailing in the Mediterranean.
Last year, MSC and Fincantieri announced plans to redesign the third and fourth ships. The plan calls for lengthening the ships by 62 feet to permit the use of a new generation of LNG-fueled engines. The changes will cost an additional €120 million each for fitting Explora III and IV with LNG engines and required a temporary halt of work due to the significant redesign of the ships, which will now be delivered in 2026 and 2027. The company also reported plans to build two additional cruise ships Explora V and VI which will feature a new generation of liquefied natural gas engines that will tackle the issue of methane slip and will also be equipped with industry-first environmental technologies and solutions, including a containment system for liquid hydrogen. It is anticipated that hydrogen fuel will power a six-megawatt fuel cell to produce emissions-free power for the hotel operation and allow the vessels to run on zero emissions in port, with the engines turned off. These ships are due to launch in 2027 and 2028.
With the addition of the two ships and redesign of the later ships, MSC reported its investment in ships for Explora Journeys' fleet would reach €3.5 billion. It is seen as a further demonstration of the industry's expectations for continued growth in the ultra-luxury segment of cruising.