Russian plans to build a unique multifunctional nuclear service vessel to support its ambitions to continue the growth of the Northern Sea Route through the Arctic. The order for the vessel was recently awarded to the JSC Baltiysky Zavod shipyard, part of the United Shipbuilding Corporation. Rosatomflot, which oversees shipping in the Arctic, plans to have the ship operational by 2029.
As part of its efforts to expand Arctic shipping, Russia is continuing to build a fleet of nuclear-powered icebreakers and ships. During a recent meeting between Russian President Vladimir Putin and Russian leaders, they pointed out that the government is supporting the efforts highlighting that they have placed the nuclear-powered containership Sevmorput, a 34,600 dwt vessel carrying up to 1,324 TEU, in service on the NSR as well as commissioning a new nuclear-powered icebreaker Ural (7,154 dwt). They also thanked the government for the decision to proceed with the fifth and sixth icebreakers.
Rosatomflot's vision for the new multipurpose vessel is to perform a range of support activities for the nuclear fleet. The vessel would provide for the recharging of the nuclear power plants on the existing icebreakers. It would also support Russia's vision for the Akademik Lomonosov FNPP floating nuclear power plants.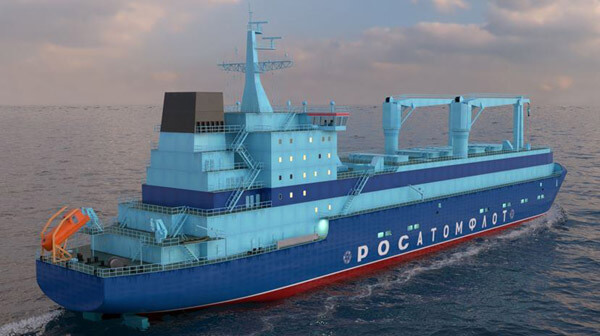 "When building nuclear-powered icebreakers today, we must simultaneously think about how to efficiently and economically carry out their maintenance in 10, 20, 30 years," said Alexei Rakhmanov, General Director of USC. "Starting to build a multifunctional nuclear-technological service vessel, we want to ensure the long and safe operation of nuclear-powered icebreakers, floating nuclear power units, and, in general, the entire Atomflot." 
The design concept calls for a vessel that would be used to recharge the reactors as well as to store both fresh and spent nuclear fuel. It would be able to accept, store, and distribute liquid radioactive waste generated during the operation of the ships and provide new nuclear fuel. The spent fuel would be assembled into shipping containers for transfer to reprocessing. The vessel would also handle the decontamination of removable equipment from the ships' reactor plants and refueling equipment.
The plans developed by the Central Design Bureau call for a 22,661 dwt vessel. It will have an overall length of approximately 520 feet. It will operate at a speed of 12 knots and its hull will be ice reinforced. 
The government will finance 50 percent of the construction cost. Rosatom will be responsible for the other half of the cost of construction. The construction contract was signed on May 25 by the Acting General Director of FSUE Atomflot and the JSC Baltiysky Zavod shipyard general director.