The race has commenced between the Vineyard Wind project in Massachusetts and the South Fork Wind project in New York to be the first commercial-scale offshore wind farm completed in the United States. Both sites are claiming the title and highlighting that they have placed "steel in the water," as the U.S. industry finally moves into the construction phase.
New York's Governor Kathy Hochul today announced that South Fork Wind, New York's first offshore wind farm, has achieved its "steel in the water" milestone with the installation of the project's first monopile foundation. In the coming days, she highlighted that South Fork Wind will install the project's U.S.-built offshore substation. They are reporting that the project remains on track to become "America's first utility-scale offshore wind farm to be completed in federal waters" when it begins operations by the end of this year.
Offshore work is commenced at the project site roughly 35 miles east of Montauk, N.Y. An offshore installation vessel, Boskalis's Bokalift 2, is transporting and installing the foundations for the project which will consist of 12 turbines from Siemens-Gamesa each with an 11-megawatt. South Fork is expected to generate 130 MW.
During South Fork Wind's construction period this summer and fall, construction and transport barges, tugboats, crew vessels, and protected special observer monitoring vessels will be active at the offshore construction site. Vessel and crane operators, boat captains and crew, engineers, welders, scientists, protected species observers, and dozens of others are involved in this operation highlighted the governor. With today's milestone, South Fork Wind officially enters its wind turbine installation phase, after work onshore began in February 2022.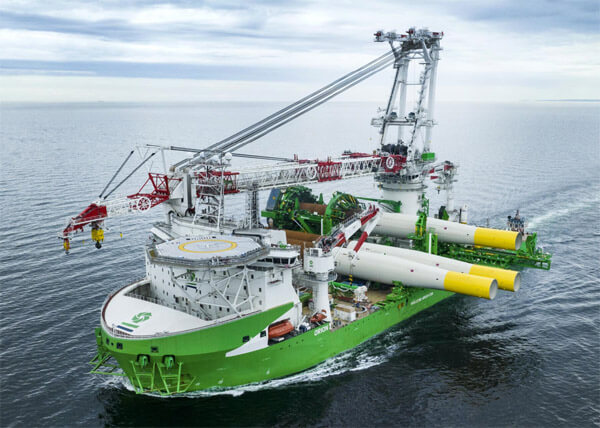 DEME's Orion is undertaking the installation for Vineyard Wind off Massachusetts (Vineyard Wind)
While New York was celebrating its achievements, it is two weeks behind Massachusetts which claimed to be the first in the water at its site located 15 miles south of Martha's Vineyard. Vineyard Wind, a joint venture between AVANGRID and Copenhagen Infrastructure Partners reported that work installing the first monopiles and transition pieces had started on June 7. The first turbine components began arriving at the staging and assembly area in New Bedford in late May.
DEME's heavy lift vessel Orion will be working with a team of ships throughout the summer installing 62 foundations in the wind development area. Also deployed at the site are the OSV Atlantic Oceanic and the Northstar Navigator which are implementing a primary and secondary bubble curtain, designed to reduce noise from the installation process. Three local fishing vessels, the F/V Torbay, F/V Socatean, and the F/V Kathryn Marie, will be on-site to serve as safety and communication sentries. The F/V Beth Anne is also working at the project deploying a Passive Acoustic Monitoring system comprised of fixed buoys. Up to four PAMs will be used for real-time underwater acoustic monitoring during pile driving to characterize the presence of marine mammals by detecting vocalizations.  
Both projects are scheduled to be completed late this year and begin generating power. They will continue to be rivals with each seeking to claim the title of first in the USA.